Fight Crime Tips
Available in BigBoss App
Stay inside the school waiting area while waiting for your parents after school hours. Do not leave the school compound!
放学后应该到指定地点等父母接送,千万不要离开学校的范围 。
Tunggu kedatangan ibu bapa di lokasi yang ditetapkan semasa waktu lepas sekolah, jangan sekali-kali meninggal kawasan sekolah.
Never trust what a stranger tells you or talk to them. Always report to your teachers and parents if anyone talks to you or did something to you.
绝对不要相信陌生人说的话,也不要理会陌生人。任何事情都必须向老师或父母报告。
Jangan percaya kata-kata atau berbual dengan orang asing. Laporkan kepada cikgu dan ibu bapa jika ada orang asing bercakap atau melakukan sesuatu kepada anda.
If a stranger gets close to you, quickly look for the teachers and report to them.
如果对方再靠近你,马上离开向老师报告。
Melarikan diri dan melaporkan kepada cikgu dengan segera sekiranya orang asing cuba mendekati anda.
Try to remember what the stranger looks like and tell your teachers and parents as soon as possible.
记下对方的模样, 马上向父母或老师报告。
Cuba ingatkan wajah orang asing dan beritahu ibu bapa atau cikgu anda secepat mungkin.
Shopping Mall, Playground / 购物场所,游乐场 / Pusat Membeli-belah , Taman Permainan
Always follow your parents in public places. Inform your parents before you go anywhere and never leave without your parents.
在广场时要紧跟父母。想到哪要跟父母说一声,千万不能单独离开。
Selalu ikut rapat dengan ibu bapa anda semasa berada di tempat awam. Maklumkan ibu bapa anda sebelum pergi ke tempat lain dan jangan meninggalkan ibu bapa anda.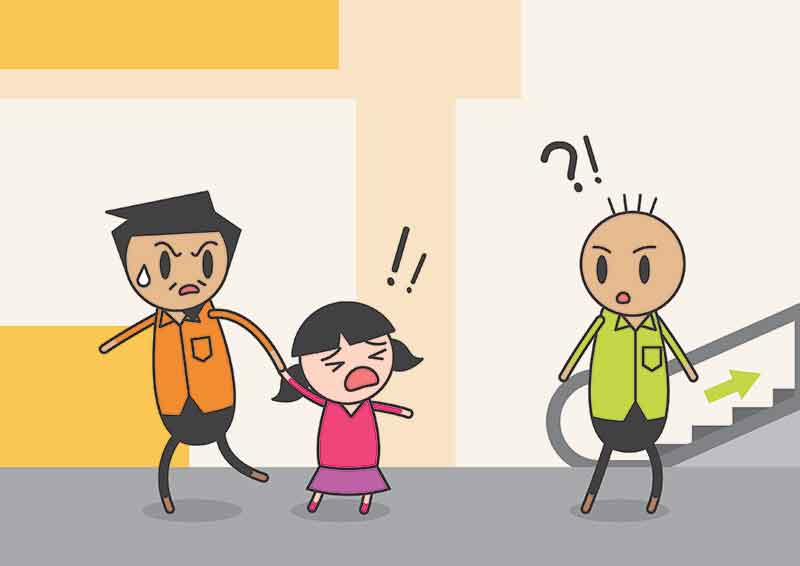 Do not simply follow anyone. If a stranger tries to take you away, you should scream loudly and make noises to attract other people, such as "WHO ARE YOU??? HELP ME!!!"
不要随便跟别人走,如果被硬拉着,要大声喊 "你是谁?救命!!",一定要让所有人发现。
Jangan mengikut sesiapa sesuka hati. Sekiranya ada orang asing cuba membawa anda ke tempat lain, anda mesti jerit dengan kuat dan buat bunyi bising supaya menarik perhatian orang lain, seperti "SIAPA AWAK??? TOLONG SAYA!!!"
Never accept and take anything from someone you do not know without your parent's permission.
没有父母的允许,绝对不能接受任何人的东西或礼物。
Jangan menerima dan mengambil sebarang benda daripada orang yang anda tidak kenal tanpa kebenaran ibu bapa anda.
Never ever take and eat any food and drinks from someone you do not know.
不要随便接受陌生人给的零食、饮料等。
Jangan sesekali mengambil dan memakan sebarang makanan dan minuman daripada orang yang tidak dikenali.
Other Places / 他场所 / Tempat Lain-lain
Never be alone, always walk with your friends in a group. It's is always best to have adults to walk with you.
不要单独外出,一定要结伴,最好有家长陪伴。
Jangan bersendirian, selalu berjalan dengan kawan anda secara berkumpulan. Lebih baik jika ada orang dewasa berjalan dengan anda.
If you are alone at home, make sure you lock the doors. Never leave the doors opened or let strangers into your home!
独自在家时,应及时把门锁好。不随意开门给陌生人或熟人。
Jika anda bersendirian di rumah, pastikan semua pintu telah dikunci. Jangan biarkan pintu dibuka atau membenarkan orang asing masuk ke dalam rumah anda!
When you are going out with friends, be sure to inform your parents the names of your friends you are going out with, and their parents phone numbers if possible.
跟朋友出去玩,一定要告诉父母朋友的名字,并留下对方家长的联络号码。
Apabila anda keluar dengan kawan, pastikan anda beritahu ibu bapa anda nama-nama kawan dan nombor telefon ibu bapa mereka jika boleh.
If you get lost or feel unsafe and scared in public places, you may look for a police in uniform or adults with children to ask for help to call your parents.
当迷路或感到害怕时,可以寻求警察或者是有带着孩子的父母帮助,立刻打电话给父母。
Jika anda tersesat atau berasa tidak selamat dan takut, anda boleh dapatkan bantuan daripada polis berseragam atau orang dewasa yang mempunyai anak untuk bantuan memanggil ibu bapa anda.
Safety Tips / 注意事项 / Tip Keselamatan
Always remember to inform your parents and get permission first before going anywhere.
养成向父母报告自己行踪的习惯。
Sentiasa ingat untuk memberitahu ibu bapa anda untuk mendapatkan kebenaran dahulu sebelum keluar.
Create a code words with your parents, which other people would not know. Do not follow the person who do not know the code words.
约定只有父母和孩子才懂的秘密暗语 ,千万不要跟随不知道秘密暗语的人离开学校/任何场所。
Mencipta kata-kata laluan rahsia yang tidak difahami oleh orang luar tapi hanya diketahui oleh ibu bapa dan anda. Jangan mengikut orang lain yang tidak tahu kata laluan rahsia.
Do not get into a stranger's car or go anywhere with him or her, without your parent's permission and knowledge.
绝对不能上陌生人的车,或者跟他或她一起去任何地方。
Jangan menaiki kereta orang asing atau pergi ke mana-mana bersamanya tanpa kebenaran dan pengetahuan ibu bapa anda.
Memorize parent's phone numbers.
熟记父母的电话号码 。
Menghafal nombor telefon ibu dan bapa.